Summer B. Patterson
REALTOR®, Sales Associate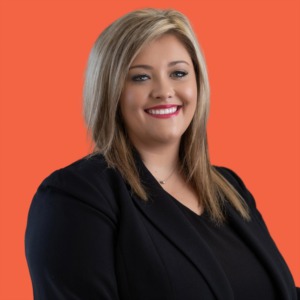 License Number:
WVS2000301007
Introducing Summer Patterson, COO and Co-owner of Patterson & Co.
Many of you know her as a kind and hardworking agent here at Patterson & Co., but some of you may not know her story. Summer has been in the industry for two years and she is the co-owner and COO of our company. Keep reading to learn more about this local West Virginia girl who loves all things home!

Summer was born and raised in Monroe County and now resides in Lewisburg, WV with her mini golden-doodle, Houston. She attended Greenbrier East High School where she was very involved in FFA, 4-H, student government, and more. After high school, she attended Liberty University and West Virginia University where she studied Psychology. Summer has also been very involved in the livestock industry since she was eight years old and continues to be involved with cattle on their family farm.
One of Summer's favorite hobbies is traveling. She has been to 20 out of 50 states! Other continents and more specifically, Italy, is definitely on her bucket list. Her all-time favorite place to visit is Hilton Head Island in South Carolina where her family has been visiting each summer since she was an infant. Although she loves to travel, there is no place like home for this local girl.

Summer is an amazing cook and says that if she wasn't selling homes, she would love to be a chef! One of her favorite things to do is have friends over for dinner parties where she gets to try out new recipes. We are lucky enough to be able to taste test some of her creations from time to time in the office!

Summer loves all things Christmas. Her old soul comes out during the holidays because she loves anything vintage - especially ornaments and decorations.
Summer hopes her career in real estate will make an impact on her community. Growing up she had a lot of mentors to look up to which molded her into the person she is today. Summer says, "I want to be a mentor for the children in our community and show them that it is possible to fulfill all of your dreams as long as you put in the work."

If you haven't had a chance to meet Summer yet, we hope you will take the opportunity to do so soon! She is such a valuable member of our team, and we are so lucky to have her as a part of Patterson & Co.

We hope you enjoyed getting to know Summer better!
Testimonials
Summer was absolutely wonderful. We sold a home out of state. Towards the end of the process, there was a hold-up in the appraisal as there were many being done at that time. Summer kept us informed via email multiple times. She worked out an extension on the closing that was acceptable to the buyer and us. It was very easy to do. We did not return for the closing. Even that was handled through Summer and the law firm doing the closing. The best customer service ever!!!
Marion and George Bish
Summer goes above and beyond for her clients! She is a great real estate agent and I highly recommend her!
Abbie Cline
Summer made buying a house a good experience. We are new to home buying (our first), and we have heard horror stories! Summer was absolutely wonderful to work with—she was professional and personal. She never made us feel uncomfortable and helped us every step of the way! Summer explained everything in a way that was easy to understand, from making the offer to the closing. Summer was reliable and flexible with her time, always available to answer our questions. We told her what we wanted and she delivered. The house she helped us find is perfect for our growing family. We would highly recommend Summer.
Corey, Rebecca, and Porter Lane
Text messages, phone calls, and emails were all answered within minutes. Each time I spoke with Summer I was greeted with respect and professionalism. My husband and I were out of town buyers, Summer never once hesitated to take care of tasks regarding the house. VA loans can be difficult to process, however, Summer went above and beyond to ensure all obstacles were handled promptly and with grace. If you're searching for a genuine agent who offers nothing but her best… I recommend Summer Patterson!
Hannah Osbourn